COVID-19 Precautions and Preparations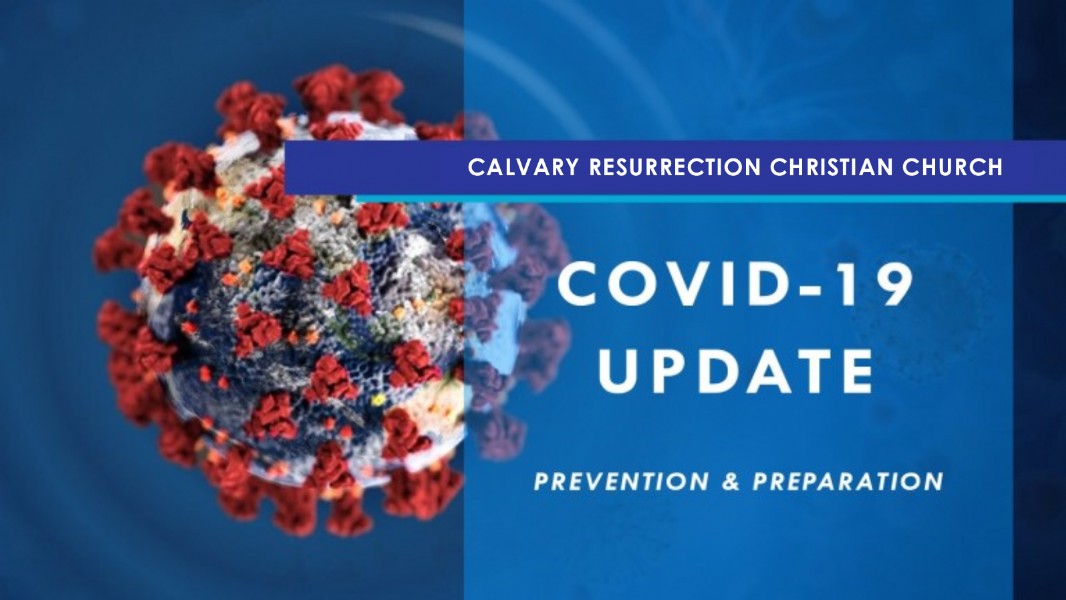 Calvary Resurrection Christian Church
Calvary Resurrection Christian Academy
COVID-19 Policy
Calvary Resurrection Christian Church and all of its entities are committed to providing a safe environment for our total worship experience (Spirit, soul, and body). In light of the pandemic spread of COVID-19 (coronavirus), we have increased the frequency of cleaning procedures at high touch point areas such as door handles, doorplates, faucet and toilet handles, etc. Our Ministry and school are providing numerous hand sanitizing stations campus-wide. In addition, we have implemented the following precautions during our meeting and school times for this season:
All hugging, handshaking, and close proximity touching have been suspended.

These typical displays of our love for each other are to be replaced with fist or elbow bumps, peace signs, and other non-touching forms of social distancing.

When praying, all ministers will extend their hands toward the congregant and maintain safe distancing.
As we deal with this pandemic virus and make natural adjustments accordingly, we declare our God is entirely faithful, and our protection comes from Him! (Psalm 89:8, 18 NLT)
We encourage members, guests, students, and clients to observe the following instructions:
Avoid all unnecessary travel.

Wash hands frequently throughout each day for at least 20 seconds.

Drink plenty of water. Water is essential to bolstering the immune system. As this disease is viral, it seeks to attach itself to weak immune systems.

Avoid touching the mouth, face, or nose.

All persons 65 and older with prevalent preexisting conditions are asked by the Centers for Disease Control and Prevention (CDC) to be cautious about leaving home in this environment.
Calvary Resurrection Christian Church will also postpone the following events until further notice:
Tuesday and Thursday Morning Exercise Classes
Lastly, we bind the spirit of fear!
Psalm 91 – "It is he who dwells in the secret place of the most high that abides in the shadow of the almighty." (Paraphrased)